News
Co-op Group reports heavy loss from banking arm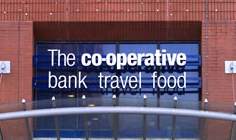 The Co-operative Group has reported an underlying operating loss of £356m for the first half of 2013, compared to a £140m profit for the first six months of 2012. The Group recorded a statutory pre-tax loss of £559m for the period, compared to £18m profit the year before.
The Banking Group (non-core) sector recorded the heaviest loss, losing £375m over the period compared to a loss of £73m in H1 2012. Core banking activities recorded a loss of £82m, which includes car finance as part of the Group's unsecured lending business line – personal loans available to its retail banking customers for the purpose of buying a car – compared to £78m profit for the half-year in 2012.
In total Co-op Bank, which does not offer car finance via motor dealerships, made a loss of £709m in H1 2013, including writing off £496m of bad debts.

During the first half of the year, the Co-operative Group completed the sale of the last of its car dealerships and motors business, the Co-operative Motor Group, generating £29m of cash for the Group.
Reduction of non-core assets
The Bank is required by the Prudential Regulatory Authority (PRA) to address its £1.5bn capital shortfall and has begun a Capital Action Plan and strategic review with a four year turnaround, agreed by the PRA, which will also cover anticipated future losses.
Euan Sutherland, appointed chief executive of the Group in May, said the Group's priority was instituting a recovery plan for the Bank. Sutherland hoped to bring stability and reduce the cost base at the Bank, which would allow it to "re-focus on its key retail and small business customers".
Niall Booker, chief executive of the Co-operative Banking Group, said the £496m in loan impairments was "principally the result of a fresh review of non-core assets and partly driven by our developing knowledge and the earlier-than-anticipated disposal of some of those assets."
Despite these disposals, writing down its IT assets by £148.4m and setting aside £61m for PPI payments, the Bank has "continued to lend," said Booker.
However, the plan for recapitalisation to be undertaken by the Bank will mean further reduction in its non-core asset portfolio.
richard.brown@timetric.com