News
De-fleet and part-ex drop slightly in August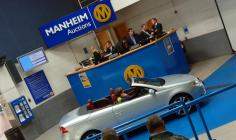 Vehicle remarketing group Manheim has reported the average price for part-exchange and de-fleet vehicles fell slightly compared to July, although remained up year-on-year.
Month-on-month, part-exchange prices fell by £74, or 2.8%, to £2,629, which Manheim said reflected a rise of one month in the average age of the vehicles and an increased mileage of 1,327.
Prices across the models remained relatively static, except for coupes, which fell by £333 to £4,602.

Year-on-year, prices increased 6.5% from £2,629, in spite of a rise in the average mileage of 1,471, and an increase in age of two months.
Daren Wiseman, valuation services manager at Manheim Auctions, said the most recent figures from the Society of Motor Manufacturers and Traders showed a continued rise in the new car market. Coupled with the September licence plate change, "it will not be long before we see significant numbers of new vehicles feeding the starved market".
Ex-fleet
Compared to July's figures, average ex fleet and lease vehicle prices fell by £52 or 0.7% to £6,939, despite no change in the average age of the vehicles, while average mileage fell by 463 miles.
The most notable fall in value came from the coupé sector, with average prices falling £830, while four segments rose in value, with the average price of supermini models increasing £396 to £4,222.
Overall values were up 6.7% year-on-year while the average mileage fell 4,268 miles to 57,615 and the average age of vehicles fell by two months.
Wiseman said the number of buyers in physical attendance at auctions fell in August, although stability in values had been facilitated by an increase in online bidders.