News
Dürheimer rejoins Bentley as chief executive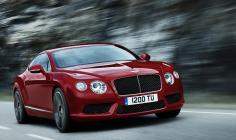 Wolfgang Dürheimer, currently the VW Group committee member for motorsport, has been appointed as the chairman and chief executive of Bentley Motors Ltd, as well as being appointed to the VW Group committee responsible for the Chinese and US markets starting 1 June.
Dürheimer will also be responsible for the Bugatti brand in his new role.
Previous to his role in motor sport, Dürheimer had already held the position of chief executive of Bentley and Bugatti before becoming a member of the board of management at Audi AG, another of the VW Group's brands.

Beginning his career with BMW, after gaining a degree in engineering, Dürheimer then moved to Porsche where, in 2001, he became the board member responsible for research and development and helped introduce some of the models which "significantly strengthened" the sports car brand. His first appointment at Bentley came after Porsche were acquired by the VW Group.
Dürheimer replaces Dr Wolfgang Schreiber who will be moving to another position within the group.