News
Driverless cars not accepted by the majority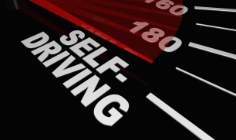 The move towards driverless cars has been rejected by over half of UK adults, with a quarter believing the vehicles will not be safe, according to recent research conducted by insurer Churchill Car Insurance.
Over half of the 2,006 adults surveyed believed they would not purchase a driverless vehicle, which potentially leaves the idea of safer roads through a completely driverless environment in doubt.
Of those who were willing to consider buying a driverless vehicle, the average price they were willing to pay was also only £19,000, much less than the 'high' cost predicted by Google, the leading exponent of the technology who have so far been unable to put a figure on the vehicle they expect to launch in 2015.

Only 8% of the people surveyed had no fears about driverless vehicles, while 60% believed that the vehicles would be unreliable with the computers driving the vehicle being most to blame.
Reasons for rejection of the driverless cars included worries about the lack of human control over the vehicle (56%), and the risk of hacking and other computer related problems (31%).
Among those surveyed 31% also believed that commuting times and the chances of breakdowns will increase.
On the positive side, 42% do see a decrease in emissions and fuel consumption with driverless vehicles and 17% believe there will be a reduction in traffic.