News
Drivers needed for BEN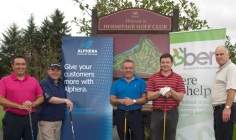 Motor industry benevolent fund BEN has announced its annual golf tournament raised more than €6,500 (£5,600) this year and urged people to take part in its October go-karting event.
The tournament, sponsored by Alphera Financial Services, was held at the Hermitage Golf Club, near Dublin, Ireland, and followed by a prize giving and dinner.
BEN Ireland Honorary Secretary and BEN Life Governor, Con Dalton said: "This event has become a key feature of our calendar in Ireland where we acknowledge that raising awareness of BEN would enable us to help many more of our industry colleagues in times of need. We are therefore indebted to our sponsors for enabling us to offer such a high profile attraction as the BEN Golf Classic.

"Thanks to everyone's generosity we have also been able to exceed the amount raised in 2012. Everyone involved in putting the event on is already looking forward to an even more successful day next year."
Full details of BEN's 2013 Karting Championship were released in July and the charity has issued a press release to encourage people to sign up for the event.
richard.brown@timetric.com