News
Ex-ING Lease veterans join Grant Thornton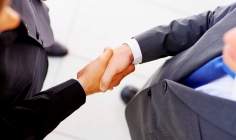 Accounting firm Grant Thornton has added two new faces to its business.
Marc Tendler and Bas Hoekstra have joined Grant Thornton in the firms leasing, asset finance and consumer financing business.
Tendler has been appointed head of UK vendor and captive asset finance. He has spent the past 30 years in the leasing industry, including time at Invigors and 10 years as finance director of ING Lease UK.
Hoekstra was recruited to add European experience to the team, following his experience as global head of product management at ING Lease Holding.

Tarun Mistry, partner and head of financial corporate finance said; "Marc and Bas bring vast experience in the UK and European markets which perfectly complements our growing team. They bring additional skill sets to further strengthen our offering and this is aligned to where we are seeing growing market demands."