News
Ex-Stoneacre staff begin subprime venture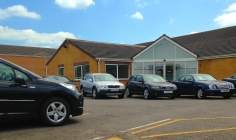 Car Credit 123, a nationwide retail subprime finance provider, has been launched by a team of former employees of Stoneacre, the 29-site dealer group.
The company will operate from its used car showroom in Belton, Doncaster, with interior space allocated for an in-house finance team and call centre.
A spokesperson for Car Credit 123 said it will be lending money from "multiple wholesale funders" and has a broker agreement in place with Evolution Funding.

The company will offer hire purchase, straight finance and personal loans secured against the car.
'Vast' subprime
The business is run by Grant Lees, formerly of Stoneacre Volvo, his son Alex Lees and brother Scott Lees as well as Stewart Hailes and Nick Constable, also ex-Stoneacre employees. Together they have invested approximately £500,000 into the venture for stock, premises and technology.
Similar to comments made by subprime lender The Funding Corporation at the time of its expansion this year, Lees called the subprime market potential "vast" and said he hoped to develop "an honest, successful and sustainable business" by providing finance to those refused by "mainstream lenders".
Car Credit 123 will also be operating in a subprime market alongside Stoneacre's own venture into lending in conjunction with Marsh Finance announced in April.
Steve Reynolds, F&I manager for the Stoneacre Group, told Motor Finance subprime lending has "become more prominent" and Stoneacre Finance had received a "positive" response from customers being given a "chance to rebuild their credit".
richard.brown@timetric.com