News
First EV finance deal for Car Loan 4U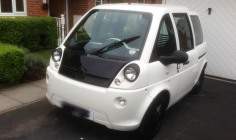 Web-led car finance broker Car Loan 4U has arranged finance for its first electric vehicle (EV), securing the first personal ownership of a Mia-Electric in the UK.
Alternatively-fuelled vehicle sales and finance have been high on the agenda of the Macclesfield-based intermediary, having recently demonstrated public worries over the charging of electric cars but spoken of the potential of the EV and hybrid market on the back of planned changes to the London Congestion Charge. And French EV manufacturer Mia-Electric has said its UK launch aimed to coincide with the change to the charge, due in July.
Customer James Quirke said he was attracted to the Mia by the potential money saving on fuel prices, and could get around 55 miles out of the Mia from a five-hour charge.

Paul Evans, managing director of Venture Automotive Holdings, which will import the brand, said there was a "real and practical place for EVs in the UK" but advised a practical appreciation of their restriction to "urban environments, short journeys and regular return-to-base delivery fleets".
Quirke also opted to buy the battery outright, rather than leasing it, which RCI Financial Services has offered as an option on Nissan EVs and as a standard on Renault EVs.
Current appeal
Ryan Dignan, director Car Loan 4U Director Ryan Dignan, said: "With fuel prices consistently on the rise and changes set to be made to the Congestion Charge to make only electric cars free to drive through central London, it's easy to see the appeal of owning an electric vehicle."
Speaking to Motor Finance, Carl Eccles, industry director at Car Loan 4U, added there was "definitely" a market for EV finance in the UK.
"With the government's funding and a general consensus that electric vehicles are the future, then the potential for this market to grow is huge," said Eccles, "especially as more and more car manufacturers are consistently developing and launching new models."
Further comment from Carl Eccles, RCI Financial Services, British Gas and Hitachi Capital Vehicle Solutions regarding the future of EV finance will be published in the June issue of Motor Finance magazine.