News
Fleet Friday: A fleet roundup in nine acts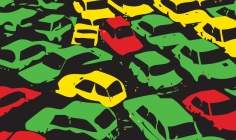 By Peter Johnstone, Daniel Milroy Maher, and Steffen Müller.
The week's fleet news, including the BVRLA, new business for Lex and Fleet Alliance, and new offices for Leasedrive.
BVRLA: 'Business as usual' with lease accounting

The British Vehicle and Rental Association (BVRLA) has expressed confidence that its members will adapt to new lease accounting rules proposed by the International Accounting Standards Board.
The proposed 'right to use' model would bring all assets leased to publicly listed companies on balance sheet, with the intention of giving greater transparency to investors, but would initially only apply to firms reporting to IASB standards, whereas most UK firms use the UK's generally accepted accounting principles (GAAP).
Gerry Keaney, chief executive of the BVRLA, said even if a company was affected it would not erode the benefits of leasing, which has "proved its value, sheltering companies from the risk of fluctuating vehicle values, providing them with extra flexibility and purchasing power and freeing-up precious working capital that would otherwise have been spent buying an asset."
He added: "Our members already advise customers on how to reduce fleet costs and emissions and I am confident they can add even more value by helping them with their reporting requirements."
Lex Autolease grows SME base, launches remarketing partnership
UK fleet provider Lex Autolease provided vehicles to 9,400 new SME customers last year, increasing its client base by 22% to 42,000 businesses.
This signifies £260m (€307.8m) of new business for the company, based on an average asset value of £10,000.
Over this period customers became more aware of the costs of running their vehicles, opting for more economical and fuel efficient vehicles, and contributing to a 20% fall in CO2 emissions from 148g/km to 135g/km between 2010 and 2012.
As well as improving its SME offering over the past year, Lex Autolease held its first resale event with online auction company G3 Remarketing on May 16.
The event involved G3 Remarketing's new real-time bidding portal, allowing live communication with the auctioneer, and 'deep zoom' technology supported by detailed damage reports and verbal inspection reports.
Cakebread appointed BVRLA chairman
Peter Cakebread, managing director of Marshall Leasing, has taken over from Hertz's Neil Cunningham as chairman of the BVRLA.
Cambridge economics graduate Cakebread, who chaired the BVRLA's Leasing and Fleet Management Committee between 2007 and 2009, said: "I want to ensure that the BVRLA punches its weight in government circles and is the first port of call for policymakers when they are drawing up new laws that could affect our sector. In a world where legislation comes thick and fast it is vital that we get involved at the earliest stage."
The Association has also appointed Keith Allen, managing director of ARI Fleet UK, as chairman of its Leasing and Fleet Management Committee. Allen replaces Simon Oliphant of Hitachi Capital Vehicle Solutions, who has ended his two year term and will now become vice-chairman.
Paul Huxford of PHVC Vehicle Management has become chairman of the BVRLA Leasing Broker Committee, replacing Martin Brown of Fleet Alliance.
Fleet Alliance signs outsourcing deal with Europa
Fleet management company Fleet Alliance has signed a deal with Europa to handle the facilities-management company's 350 vehicle UK fleet until 2016.
The agreement follows a 2011 deal for Fleet Alliance to source all of Europa's new vehicles, and the company will now be responsible for all day-to-day fleet administration, including invoices, licence checking, motoring offences, insurance updates, servicing and MOT reminders and damage disputes. It will also provide hire cars when necessary and manage Europa's 70-vehicle grey fleet.
Greig Brown, chief executive of Europa, said: "Fleet Alliance's service levels and their ability to reduce costs have been big factors in our decision to extend the relationship. Using Fleet Alliance means we no longer have to predict our future fleet needs, while their astute approach maximises the potential of our fleet and achieves full value for money."
The deal follows good news last week for Fleet Alliance, which was declared the best company to work at in Scotland by the Great Place to Work Institute, and is also a nominee for Employer of the Year in the Scottish Business Awards, to be announced in June.
Deutsche Leasing Fleet appoints Harald Frings to management board
Deutsche Leasing subsidiary Deutsche Leasing (DL) Fleet has appointed Harald Frings as chief executive officer for sales.
The appointment follows DL's takeover of Hannover Leasing Automotive's (HLA) vehicle portfolio and car-leasing business, as Frings formerly served in an equal management position with HLA.
Frings brings 20 years' experience in fleet business and, according to DL, the appointment is meant to sustain consistency in customer care for the former HLA clients.
VGroup and Ebbon-Dacs start moDrive trials
Logistics support company VGroup and online technology provider Ebbon-Dacs are starting trials on moDrive, their in-car telematics system.
Launched at the BVLRA dinner in March, moDrive will be tested this month using two UK fleets.
moDrive is "based around conventional dealer-fit, black box hardware" and aims to "cut fleet fuel bills and carbon emissions, reducing wear and tear costs, improving driver behaviours and meeting duty of care obligations," according to Ebbon-Dacs.
Two models will be available, one catering to "major leasing companies which manage large numbers of high value assets", and the other for "smaller fleets that may not need the level of functionality or systems integration that leasing companies require."
Leasedrive leaves Birmingham for offices in Solihull
Vehicle management group, Leasedrive, has left its base in Birmingham for new offices in Solihull, in the UK West Midlands.
Prior to this the company was situated at International House, Marston Green, but to ensure "continued successful growth of the business" it has relocated to the current premise at Phoenix House, Blythe Valley Park.
British Gas orders 520 Ford Transit
Ford has provided British Gas with 520 new Transit vans for their fleet.
Powered by a 125PS 2.2-litre TDCi diesel engine, the vans will enable British Gas to save costs by recycling the bespoke racking systems fitted to their existing Transit models.
Colin Marriott, fleet general manager with British Gas, said: "By sticking with the same body shape, we have been able to take fantastic advantage of being able to recycle all the racking systems, saving tons of steel, energy and a lot of money".
Stephen Gafson, direct sales manager for Ford, said the British Gas order would underline "the affection in which the vehicle is held, not only by the end user, but also by fleets looking for versatility and value."
Donnelly Finance and Leasing workforce doubled
Vehicle hire company Donnelly Finance and Leasing has planned an investment which will bring new offices, seven new sites and fifteen more jobs to its workforce.
The company is based in Mallusk but its expansion will see sites open in Ballymena, Boucher Road in Belfast, Englinton, Enniskillen, and two more including a head office in Dungannon.
Terence Donnelly, managing director, said: "The company is aiming to increase its share of fleet cars".