News
Fleet Friday: A green start to the year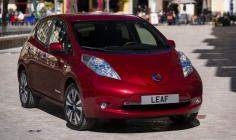 A weekly round up of European and UK fleet news, this week a construction company goes green and the british vehicle rental and leasing association propose new idea for ultra low emission vehicles.
More fleet vehicles to be leased
As the fleet market changes there will be an increasing reliance on leasing companies according to James Taylor, fleet sales director at GM's Vauxhall subsidiary.

"We are seeing this strategic change where leasing companies are becoming more influential on fleet accounts as procurement and outsourcing becomes more prevalent. As a result, we are increasing our headcount to improve our relationships and partnerships with them," he said.
The reason for this change, he believed, was due to the retirement of traditional company fleet managers and an increase in the use of leasing to add to van and car fleets. At present Vauxhall sees 25% of its vans leased to fleets but this number is increasing.
Lighting company switch to Toyota
Lighting design company Challenger Lighting Services has added Toyota's new Proace van to its fleet.
The company has taken on an initial eight of the medium sized vans onto the fleet with a further 12 to be added over the course of 2014.
The vehicles were acquired with the aid of Toyota Financial Services, and the long wheel base vans will have a full corporate livery and dedicated racks specific to the company.
Construction company cleans up
Construction company Morgan Sindall has become the first in the UK to adopt Mercedes Benz's 'green' Aroc truck to its fleet.
The Aroc is considered the cleanest current commercial vehicle and one of the first to be Euro 6 compliant.
The company will take two of the £100,000 vehicles onto its fleet under a leasing agreement with Leeds Commercial Vehicle Hire.
BVRLA workshops low emissions
A panel of advisors assembled by the British Vehicle and Leasing Association (BVRLA) has set forth a series of proposals to the UK government's Office for Low Emission Vehicles (OLEV) that it believes will help the adoption of more ultra low emission vehicles (ULEV).
Among the proposals set out were:
– Subsidised free parking for electric vehicles
– Tax incentives for companies to use charging infrastructure
– Reinstating 100% first-year allowances for leased or rented ULEV
In addition the delegates said that manufacturers needed more encouragement to support the ULEV early adopters and to increase the used vehicle market.
The proposals will be presented to OLEV in early January.