News
Fleet Friday: ALD go electric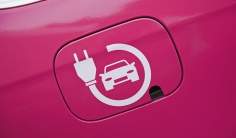 A weekly round up of Fleet news from around Europe. This week ALD adds electric to a french fleet, and Lex autolease win £100m contract. written by Isabella Grotto and Mike Cobb
ALD Automotive delivers EV to Martin Belaysoud Expansion
Martin Belaysoud Expansion, a professional distribution network headquartered in Bourg en Bresse, France, has added electric vehicles (EVs) to its fleet, with the help of ALD Automotive, a vehicle funding and management company.

During the course of a dedicated event on 29 June, ALD Automotive handed Martin Belaysoud Expansion the keys to the company's first EV, a Citroën Berlingo.
Martin Belaysoud Expansion manages almost 650 light vehicles, of which 65% exclusively for leasing, predominantly from manufacturers Peugeot, Citroën and Renault.
Ludovic Poncet, manager of general resources for the Martin Belaysoud Expansion group, said: "In 2013, we launched a tender which allowed ALD Automotive to join the group's other two partners. We were attracted by ALD Automotive's ability to propose innovative solutions for fleet management."
"ALD's equipment perfectly showcases future vehicles technology and the company has good expertise in TCO [total cost of ownership] matters."
Mercedes launches fleet & business comparison tool
German car manufacturer Mercedes-Benz has launched an updated Fleet & Business Comparison Tool through its website.
The tool allows fleet customers and company car drivers to compare each of the company's models with the three closest competitors or any other vehicle.
According to Mercedes-Benz, the service will provide greater visibility for its vehicles' performance in the market.
Aspects compared include cost-efficiency, technology, residual value, standard specification and optional extras.
Sally Dennis, head of fleet for Mercedes-Benz UK, said: "We have worked hard at Mercedes-Benz to ensure we are competitive in terms of standard equipment, CO2 emissions, and economy, and are pleased to be able to offer a tool that delivers intelligent analysis and drives consideration for the Mercedes-Benz brand and product offering.
"We hope this tool will help users see how competitive we are in the market and encourage them to take another look at Mercedes-Benz and see that the numbers work," she added.
VW Group Leasing appoints northern sales manager
Volkswagen Group Leasing has appointed Stuart Adam as corporate sales manager within its northern sales team.
Responsible for business development in the north-west of England and southern Scotland, Adam will help companies with fleets exceeding 30 vehicles source passenger and/or commercial vehicles.
With over a decade of experience in the corporate fleet industry, Adam has previously held the post of key fleet business development manager for Lombard Vehicle Management, as well as customer service manager at Lex Autolease and business development manager for MSL Vehicle Solutions.
Adam said of his appointment to Volkswagen: "The company has the vision to succeed and grow and I felt that this was a fantastic opportunity for me to further develop my career and flourish too."
Used vans reach new price heights – Manheim
Used vans have broken all previous pre-recession records despite and increase in age and mileage according to vehicle remarketer Manheim.
The average van price at auction was 45% or £1,500 (€1,890) higher in Q1 2014 than the average in Q1 2006.
Car based vans rose 6 months in age from 2006 levels to 58 months on average with mileage climbing 12,000 miles. Despite this, the price of the average car based van rose by 59% or £1,272 in the 8 years surveyed.
Small panel vans also saw similar rises in age and mileage, but also increased value.
The average small panel van in 2014 was £584 more than in 2006, a rise of 20%.
Large Panel vans, the workhorse of may fleets, saw mileages rise by 8,000 miles and age by six months. The price achieved at auction climbed by 42% in the same period.
Lex wins £100m UK contract
Balfour Beatty the global building and infrastructure group has awarded Lex Autolease a contract worth £100m (€126m) to manage its car and light commercial vehicle fleet.
This gives Lex responsibility for the 6,000 vehicles in the Balfour Beatty Group's UK fleet.
The contract specifies that Lex will supply vehicles on a contract hire basis and provide basic fleet management services such as service, maintenance and accident management to the existing and new vehicles.
Andy Ormerod, managing director of Balfour Beatty Plant & Fleet Services, said: "Optimised fleet management plays a critical role in ensuring our clients throughout the UK receive a high level of service from Balfour Beatty. Lex Autolease demonstrated they have the capability to manage complex fleet requirements across numerous industry sectors and we look forward to a productive partnership with them in the forthcoming years."