News
Fleet Friday: EVs, apps, trucks and Mazda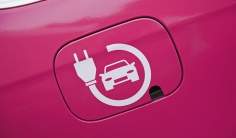 The weekly round-up of fleet news. This week featuring news from Alphabet, Mazda, Fleet Logistics and more. By Jonathan Minter
---
Alphabet signs with EDF Energy
Fleet services provider Alphabet has signed a deal with energy provider EDF Energy to provide advice and electric vehicle (EV) charging points for its customers.

This advice will include guidance on modes and speeds of charging infrastructure, types of charging cables available for selection, as well as instruction on load and power requirements and ongoing maintenance needs, and warranty protection.
Kit Wisdom, head of corporate mobility at Alphabet, said: "One of the biggest concerns for fleets when it comes to introducing EVs has been whether their drivers will be able to access a convenient and effective charging infrastructure at the office or home.
"By partnering with EDF Energy, we can now offer charging solutions to customers for workplace requirements nationwide, alongside a residential charging solution partly funded by the Office for Low Emission Vehicles (OLEV)."
Wisdom added: "Through close collaboration with EDF Energy we are working to further develop our Electric Charging product line up and plan to bring new products to market in the online and hardware areas."
Mazda fleet grows by 34%
Mazda Motors' UK corporate sales increased by 34% in the first nine months of 2014 to almost 11,000 cars.
The company said this growth was underpinned by a 67% increased year-on-year in the core corporate segment, including sales to end-user fleets, contract hire and leasing companies to either SMEs or direct to company car drivers via Mazda Contract Hire.
Over 40% of the growth in core fleet sales came from the Mazda3 while contact hire grew 93% in the first nine months of 2014, compared to the first nine months of 2013.
Mazda's head of fleet Steve Tomlinson said: "Last year Mazda Contract Hire volume was 50 per cent up on the previous best and this year demand has increased significantly because of the twin attractions of tax and fuel efficiency delivered by SKYACTIV technology and competitive lease rentals."
Fleet Logistics upgrades app
European Fleet management company Fleet Logistics is migrating its driver app across to the Apple and Andorid platforms. Initially, the app was available for just Windows smart phones.
The app has been out for three months, and has so far been used to enter mileage readings on over 500 occasions, check vehicle details on 4,000 occasions, while the 'frequently asked questions' has been used 6,000 times.
The app is also being upgraded to include the Danish, Turkish and Romanian languages, as well as save passwords and take photos of accident damage.
Construction Access adds Isuzu truck to its fleet
Wallsend scaffolding company Construction Access has added Isuzu truck to its 12 strong fleet via a five-year hire agreement with Premium Leasing.
The new Isuzu Urban 7.5 tonne truck will cover approximately 25,000 miles per annum for its five year working life, and is the first Isuzu in the fleet.
Keith Child, marketing director of Isuzu Truck UK, said: ""The building and construction industry has been a mainstay within our business for many years now."