News
Fleet Friday: Ex fleet now more expensive and Mazda sales jump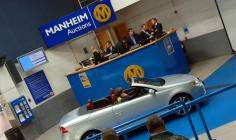 Fleet Friday this week has a rise in ex-fleet values, an addition to a 44-strong haulage fleet, the appointment of an industry veteran and a huge rise in Mazda's fleet sales.
Ex-fleet prices on the rise
The cost of the average ex-fleet vehicle has climbed £178 during 2013 according to remarketer Manheim.

The rise of 2.7% was accompanied by a fall of 614 in the average mileage to 59,962. The average age of an ex-fleet vehicle remained steady at 52 months.
Seven of the 10 main market segments increased in December year-on-year.
The value of coupés, however, fell the most, by a total of £2,046 in December as the age and mileage of this segment's average vehicle grew.
Manheim valuation services manager Daren Wiseman said: "Fleet businesses are no longer able simply to put cars onto a low loader and keep their fingers crossed that values will remain high. Sophisticated businesses are increasingly analysing their fleet profiles and developing appropriate remarketing strategies. 2014 will see savvy leasing companies focus on this more detailed approach to the market."
Mazda fleet sales jump 84%
Mazda's fleet sales in the first nine months of its financial year to December 2013 leapt by 84% as the clean technology and popularity of the Mazda6 helped it outperform the fleet market by 12 times.
The Mazda6, a Mondeo rivalling model, has sold more than double the volume between April and December 2013 compared to the previous year. In addition the Mazda CX-5 compact SUV has proved desirable to fleet buyers.
Mazda attributes this success to the SKYACTIV green technology which makes the vehicles attractive within a fleet.
Mazda distributes its fleet vehicles through six 'fleet specialist dealers'.
Haulier adds three Renault trucks to fleet
Road haulier Clive Cowern Transport Services has taken delivery of three new Renault Range T460.25 trucks on a contract hire deal.
The trucks have been supplied by Renault Trucks Midlands, and join its fleet of 44 vehicles, mostly Scania trucks.
The contract hire scheme is run by BRS Ltd one of the UK's largest contract hire companies for commercial vehicles.
The three trucks are expected to cover more than 140,000 miles a year in their time with Clive Cowern Transport services.
ALD appoints Matt Dale
Matt Dale, former national light commercial vehicle (LCV) sales manager at Nissan has been appointed national LCV operations manager for ALD Automotive.
Dale joins with over 30 years' experience in the automotive sector and was previously with Lombard Vehicle Management growing its fleet from 500 to 23,000 vehicles in 10 years. One of Dale's initiatives was the trialling of 28 electronic vans with British Gas.