News
Fleet Friday: Sacrifice Online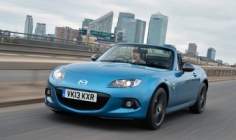 A weekly round up of fleet news from around Europe, this week Europcars adds SEATS, Fleet Logitics launches a salary sacrifice schem and more. By Isabella Grotto
Venson's tips for fleet expenditure reduction
Leasing and fleet management specialist Venson Automotive Solutions has published a series of tips aimed at helping fleet managers reduce their expenditure in 2014.
Long-term savings can be achieved through improving efficiency as well as reducing unnecessary expenditure, according to the fleet manager.
Among the avenues recommended to fleet managers are: challenging fleet suppliers to ensure their policies are the most appropriate for the business, reviewing company vehicle policy, tackling fuel costs through maintenance and telematics, training drivers to reduce incident and insurance costs and introducing salary sacrifice within the company.

Mazda goes green for fleet managers
According to Japanese auto manufacturer Mazda, its Mazda3, Mazda6 and Mazda CX-5 new company cars proved particularly popular at April's Fleet World Show in Northamptonshire.
The car maker attributed the models' popularity to their fuel-saving technology, which they claim guarantee savings to both employers and employees by reducing a business's carbon footprint and helping it achieve fuel economy.
Europcar adds SEAT to its fleet
European car hire service Europcar has updated its fleet with the addition of three models from SEAT's Leon range.
According to Europcar, the Leon range "provides the perfect balance between sporty handling, stile and practicality", and will appeal to both leisure and business customers.
Ken McCall, managing director of Europcar UK, said: "We see the versatility of the SEAT Leon being particularly popular for the wide range of travellers who use our service across the UK."
Fleet Logistics launches salary sacrifice scheme
European fleet manager Fleet Logistics International has launched a new salary sacrifice car scheme in the UK.
According to the company the scheme, called FleetBENEFIT, will prove 10% cheaper than conventional services, as a panel of funders bid on each car to deliver the most attractive rate for motorists.
The scheme allows designated staff members to receive brand new, low emission cars, and includes business insurance, road fund licence, breakdown cover and full servicing and maintenance.
First Vehicle Leasing goes online
Glasgow based broker first vehicle leasing has grown its business by enhancing its web offering.
The business funded over £50m of vehicles in 2013 and made a £1.8m profit and is on target to make a profit of £2.5m in 2014.
Speaking o f the expansion Andy Watson, business development manager at First Vehicle Leasing said: "After a period of consolidation, we decided to invest heavily in our website and slowly managed to rebuild the business. In 2009 our gross profit was £350,000 but, by 2012, when we assumed direct control of our SEO (Search Engine Optimisation) requirements, it was £917,000"