News
Fleet Friday: Telematics, CV numbers, board seats and milk floats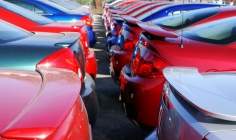 A round up of the week's fleet news including ALD Automotive's telematics, Volkswagen CV sales, a new role for John Lewis, an Ogilvie Fleet board appointment and more.
ALD Automotive improves Morelli's efficiency
Automotive repair company the Morelli Group has used an ALD Automotive telematics system to make "significant cost and efficiency savings".

The Group used ALD Automotive's ProFleet2 Premium Plus to locate and monitor drivers, allocate jobs to the nearest technicians, and provide them with the most direct routes.
Following a trial at two distribution centres, since October the firm has rolled out the technology across its 65 van network
Rob Cohen, finance director at Morelli, said the system had helped reduce fuel consumption and highlighted the need for drivers to monitor their driving style, improving driver safety and "consequently having a positive impact on their accident level."
VW commercial vehicles up worldwide, down in Europe
Global deliveries of Volkswagen commercial vehicles reached 270,700 for the first half of 2013, up by 0.2% on the same period of 2011.
Deliveries were down by 6.6% in Western Europe to 135,300 vehicles and down by 9.6% in Eastern Europe to 19,000 vehicles.
The brand attributed the declining sales to the economic crises in European markets, although offset by gains made primarily in South America.
Lewis appointed non-executive director of consultancy firm
Former chief executive of the British Vehicle Rental & Leasing Association (BVRLA) John Lewis has been appointed non-executive director of fleet consultancy firm TR Fleet.
Lewis was chief executive of the BVRLA for 13 years until he stepped down in May this year. Lewis is also a member of the Department for Transport's advisory group, the Motorists' Forum, a member of the board of the Low Carbon Vehicle Partnership and a member of the RAC Foundation's Public Policy Committee.
In his role, Lewis will focus developing on TR Fleet's risk management programme, DriveSecure and the firm's managing director, Julie Summerell, said his wealth of industry experience would help the company realise its vision for the product.
The milkman goes online
Dairy Crest, the Sheffield-based dairy food company, has moved its maintenance and compliance management online.
The company has taken on r2c Online's platform to manage Dairy Crest vehicles, one of the largest commercial fleets in the UK.
Jim Whitmore, transport compliance manager at Dairy Crest's National Distribution Centre in Nuneaton, said the move had already improved efficiency by swapping paper records for the immediate-response electronic system.
Kwik Fit warns of VOSA clampdown on LCVs
The UK's Vehicle and Operator Services Agency (VOSA) is cracking down on LCVs that "defy the law", repair and maintenance firm Kwik Fit Fleet has warned.
LCVs, which make up over 40% of the UK's approximately 4m business vehicles, are twice as likely as HGVs to be in an accident, and have an MoT failure rate of 50%, according to VOSA data.
VOSA has said it is "determined to improve van operational standards" with tactical roadside checks at appropriate locations, as well as work with trade bodies and the option of enforcement actions such as prohibition notices, fines and even jail sentences.
Kwik Fit said the majority of its centre network can accommodate LCVs with long wheelbases and high roofs, as well as Class 7 vans up to 3500kg.
Hardy joins Ogilvie Group board
Nick Hardy, sales and marketing director for UK fleet leasing and management firm Ogilvie Fleet, has been appointed the board of parent company Ogilvie Group.
Hardy has held the sales and marketing position at Ogilvie for five of his six years at the company. He will retain his responsibility for the fleet business while developing the market across the Group.
Ogilvie Fleet was the Group's strongest performing business in 2012 with a turnover of £104.8m (€121.7m) and operating profit of £2.5m.
Hardy said the company's portfolio has grown from 7,000 vehicles when he joined in 2007 to approximately 11,000 today, and he anticipates further organic growth to around 12,000 vehicles over the next two years.
Free download worth over $5000
Download our 2018 Technology, Media and Telecoms Predictions Report
Worth up to $5,850
In this report, we look at the 30 big tech themes for 2019, identifying winners and losers for each theme. This report will impact all industries helping:
CEOs/Senior Staff: in all industries understand the disruptive threats to their competitive landscape
Investors: Helps fund managers focus their time on the most interesting investment opportunities in global TM