News
Focus facelift appeals on safety and technology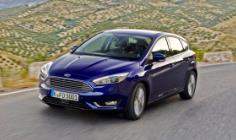 Ford has launched the face lifted Ford Focus in Europe with a range of new engines and technology aimed to keep it a popular choice with consumers.
Ford said it had improved the safety of the car with a skid prevention adaptation to the electronic stability control programme called Enhanced Transitional Stability.
When the car detects a skid is imminent, the car will apply the brakes in a way that should eliminate the skid, in what Ford said was an industry first.

Norbert Kessing, vehicle dynamics manager at Ford of Europe said: "By recognising scenarios that will lead to a loss of driver control before an incident has developed, the Enhanced Transitional Stability system is setting the recovery process in motion quicker than ever before, and improving safety and comfort for driver and passengers,"
Other enhancements to the car will be not so immediately obvious to the average consumer, such as retuned power steering, uprated dampers and stiffness enhancements to the body.
Ford believed the resulting improvements to the levels of comfort noise and vibration experienced in the car would be noticed by consumers.
In addition Ford announced a new range of engines to be fitted to the Focus which should improve the efficiency of the range by up to 15% over the outgoing model.
Building on that model's features, such as auto start-stop and active grille shutters, the range comes with a new 1.5 litre petrol engine and improvements to diesel engines to improve their emissions, with two different power outputs 148bhp and 179bhp and an improved fuel efficiency, up seven percent over the old 1.6 litre it replaces.
Other popular features will include the new SYNC 2 internet connectivity feature, which will allow the car to search the internet for restaurants, hotels and garages. This will be integrated into the cars sat-nav system to allow for quick directions to the venue of the consumer's choice.
Other advantages of the system will be simplified voice control according to Ford, which can control everything from the sat-nav to the air conditioning.
Ford have not released any information on pricing at this time.