News
Ford & VW expand alliance to autonomous and EV technology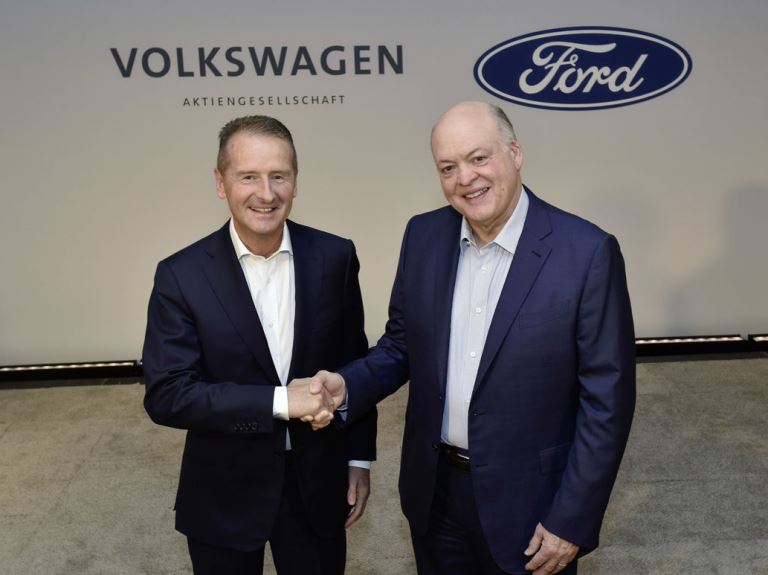 Ford and Volkswagen are expanding their alliance to include the research and development of autonomous and electric vehicle technology.
The two companies will be co-investing in Argo AI – an autonomous vehicle platform, now valued at more than $7bn (£5.6bn). The collaboration enables both Ford and VW to independently integrate Argo AI's self-driving system into their own vehicles.
Both automakers will have an equal stake in Argo AI and will own a substantial majority of the company between them. The remainder will be used as an incentive pool for Argo AI employees. The full transaction is subject to regulatory approvals and closing conditions.

"While Ford and Volkswagen remain independent and fiercely competitive in the marketplace, teaming up and working with Argo AI on this important technology allows us to deliver unmatched capability, scale and geographic reach," said Jim Hackett, chief executive of Ford.
Volkswagen will invest $2.6bn in Argo AI by committing $1bn in funding and contributing its $1.6bn Autonomous Intelligent Driving (AID) company, which includes more than 200 employees – most of whom have been developing self-driving technology for the Volkswagen Group.
As part of the transaction, Volkswagen also will purchase Argo AI shares from Ford for $500 million over three years. Ford will invest the remaining $600 million of its previously announced $1 billion cash commitment in Argo AI.
Electric Avenue
Company leaders also announced that Ford is set to become the first additional manufacturer to use VW's electric vehicle architecture to develop a high-volume zero-emission vehicle in Europe starting in 2023. Ford hopes to produce more than 600,000 European vehicles using the EV architecture over six years, with a second all-new Ford model for European customers also being discussed.
Volkswagen began developing the technology in 2016, investing approximately $7bn (£5.6bn) in the venture. The car-maker plans to build approximately 15 million cars using the technology over the next 10 years.
For Ford, using Volkswagen's MEB architecture is part of its more than $11.5bn investment in electric vehicles worldwide – and supports Ford's commitment to offer its European customers a broad range of electric vehicles while meeting its sustainability commitments.
"Looking ahead, even more customers and the environment will benefit from Volkswagen's industry-leading EV architecture. Our global alliance is beginning to demonstrate even greater promise, and we are continuing to look at other areas on which we might collaborate," said Herbert Diess, chief executive of Volkswagen.
"Scaling our technology drives down development costs for zero-emissions vehicles, allowing for a broader and faster global adoption of electric vehicles. This improves the positions of both companies through greater capital efficiency, further growth and improved competitiveness."
The announcement marks the second tie-up between the two automakers this year, after agreeing to work together in producing commercial vehicles globally. The manufacturers said the broad alliance would position the companies to boost competitiveness and better serve customers in an era of rapid change in the industry.