News
G3: Small engines still scoring high on CAP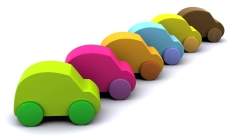 As in June, clean, small engine cars continued to register high prices compared to the CAP rate in July, according to G3 Remarketing.
G3 noted the Hyundai i20 and i30 and Citroën C1 were performing particularly well, scoring above 103% of CAP.
Vehicles which needed the least preparation before retail, or were either in the sub-£6,000 bracket or a higher-specification model worth more than £20,000 were seeing the highest returns.

G3 noted executive diesels such as Jaguar, Land Rover and 5-Series BMWs saw "very strong" demand, although the market for conversions was hampered by an increasing dismissal of lower quality cars.
By sector
The average value of vehicles coming to the remarketer from finance companies was up by 3.26% month-on-month, and by approximately 22% year-on-year, to £6,724.
The average value of ex-fleet and lease vehicles increased by 2.32% month-on-month, and by approximately 21% year-on-year, to £8,943.
G3 also noted the number of nearly-new or delivery-mileage vehicles coming to the marketplace had increased by about a fifth in July, which the remarketer put down to early repayment defaults and greater use of cooling-off periods offered by dealerships on new purchases.
richard.brown@timetric.com