News
GMAC service is outstanding say Investor in Customers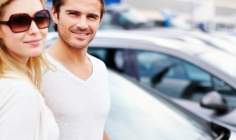 Captive finance provider GMAC have been awarded the second highest grade for customer service by assessment body Investor in Customers (IIC).
GMAC is the captive finance provider for Vauxhall Opel, Ssangyong and MG Motors as well as providing finance for a number of independents. It was awarded an 'outstanding' rating after it showed its staff had a comprehensive grasp of the needs of its dealer networks.
The IIC service is conducted at the request of the company, in this case GMAC, in order to improve its approach to customers and on this occasion used the feedback from the dealer network as well as the company's staff.

The assessment looks at four key areas of customer service: understanding customer needs, meeting customer needs, delighting customers and engendering loyalty.
In this case GMAC demonstrated that they shared many of the same values and priorities as their customers. The assessment found that the company also demonstrated a strong parity between the perceptions of its staff and those of its customers.
Ed Paulat, managing director of GMAC UK, said; "This result underlines our firm focus on ensuring that our customers' expectations are met to the highest standard. We are confident that our IIC assessment will help us to continue to excel in improving our customer services."