News
Government green lights HGV platooning trial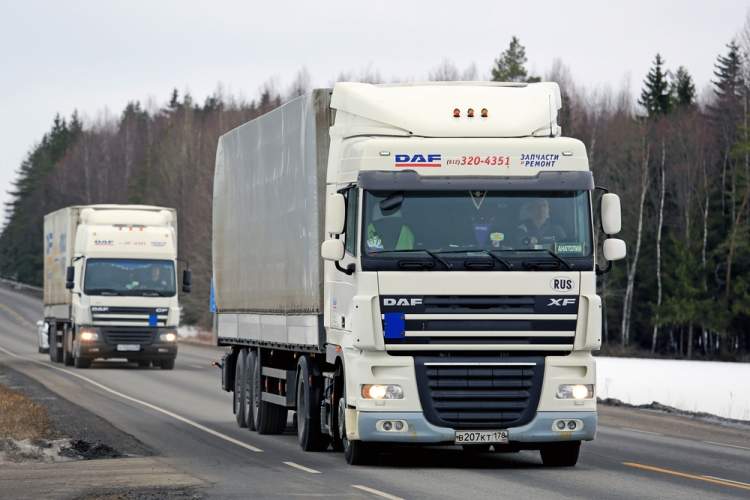 The Department for Transport (DfT) and Highways England have given the go ahead for an £8.1m trial of lorry 'platooning' on UK roads.
Platooning involves several vehicles driving one after the other, with the lead vehicle controlling acceleration and braking of all the vehicles in the platoon using vehicle-to-vehicle communication.
The trial will conducted by a consortium led by research company TRL, but will also include manufacturer DAF, logistics provider DHL, among a number of other companies.

The trial will see up to three heavy goods vehicles (HGV) travelling across UK roads in convoy, although the roads to be used have not been revealed.
All lorries in the platoon will always have a driver ready to take control if required.
Transport minister Paul Maynard said: "Advances such as lorry platooning could benefit businesses through cheaper fuel bills and other road users thanks to lower emissions and less congestion.
"But first we must make sure the technology is safe and works well on our roads, and that is why we are investing in these trials."
The trial will be carried out in 3 phases, with the first focusing on the potential for platooning on the UK's major roads. Initial test track based research will help decide details such as distance between vehicles and on which roads the tests could take place.
Trials are expected on major roads by the end of 2018. Each phase of the testing will only begin when there is robust evidence that it can be done safely.
Similar trials have already been successfully carried out in Europe and the United States.
Richard Cuerden, academy director at TRL added: "Platooning technology has the potential to deliver a wide range of benefits to all road users. As well as supporting the Department for Transport and Highways England in informing future infrastructure investments and policy decisions, the trials will highlight the services that platooning may offer road users and whether these can safely contribute to a reduction in vehicle emissions, improved journeys and greater economic prosperity."