News
Grant Thornton expands automotive team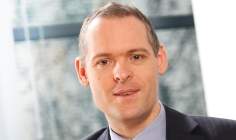 Accounting firm Grant Thornton UK has added Richard Parkin to its automotive advisory practise.
Before joining Grant Thornton, Parkin was head of valuations at finance information provider, Glass's Information Services, a position he had held since October 2012. In this time he was a regular commentator for Motor Finance, including a blog on GAP insurance.
Before working at Glass's, Parkin spent over 10 years as a strategy consultant, principally working with automotive and related segment clients.

He said: "It was a great fit: Grant Thornton was able to provide me with the opportunity to focus on consulting work and, with their existing expertise, allow me to serve clients in a wider capacity."
Tarun Mistry, Grant Thornton's Automotive Advisory partner, said: "His [Parkin] specific expertise in vehicle residual values will be very relevant with regards to the various transactional advisory work we deliver. He also brings consulting skills to further strengthen our offering and this is aligned to where we are seeing growing market demands. A strengthened team composed of a core group of individuals with real sector knowledge is in line with our strategy and reflects the continued focus of Grant Thornton in this sector."