News
Honda offers cashback and discounts on bikes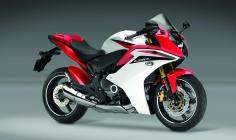 Honda, the biggest-selling motorcycle brand in the UK, has added a series of cashback and deposit contribution offers on a selection of bikes and mopeds.
The CBR600F will be available with a £400 deposit contribution alongside a finance offer, supplied through Honda Finance Europe, of 3.9% APR over 36 months. All variants of the Honda Crosstourer are available on the same finance terms and with £500 deposit contribution.
Also, the CBF125, PCX125, PS125i, Vision 110, Vision 50 and NSC50R are each available with £100 cashback, while the non-ABS version of the SH125i is available with £150 cashback.

Honda is the only top 10 bike brand other than BMW to offer captive finance on motorbikes and financing motorbikes is proving ever more attractive to independent funders: MotoNovo entered the market this year and Santander Consumer Finance told Motor Finance it has plans to step up its offering.
Meanwhile, retail finance for motorcycles, as for cars, appears to be growing in popularity with consumers, with Suzuki, backed by Close Motor Finance, and Ducati, backed by Black Horse, expanding their respective PCP offerings.
richard.brown@timetric.com