News
Insurance premiums set to soar following 'crazy' changes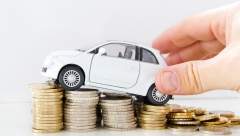 Motor insurance costs are set to rise after the Government revealed the 'discount rate' was to fall from 2.5% to -0.75%, a move Huw Evans, director general of the Association of British Insurers (ABI) described as "crazy".
The discount rate is the result of a formula used to calculate payments made under motor and liability policies. When claims are made, the amount paid is adjusted according to the interest the claimant could expect to earn by receiving it.
The rate has remained at 2.5% since 2001. According to the government, the law states that claimants must be treated as risk averse investors, reflecting the fact that they are financially dependent on this lump sum, and that compensation awards using the rate should put the claimant in the same financial position had they not been injured, including loss of future earnings and care costs.

Explaining the decision, Lord Chancellor and Justice Secretary Elizabeth Truss said: "The law is absolutely clear – as Lord Chancellor, I must make sure the right rate is set to compensate claimants. I am clear that this is the only legally acceptable rate I can set."
However ABI's Evans said the move would cause claim costs to jump, which would 'inevitably' cause an increase in motor and liability premiums. Evans added: "We estimate that up to 36 million individual and business motor insurance policies could be affected in order to over-compensate a few thousand claimants a year.
"To make such a significant change to the rate using a broken formula is reckless in the extreme, and shows an utter disregard for the impact this will have on consumers, businesses and the wider operation of the insurance market."
When announcing the change to the discount rate, the Government also revealed plans to launch a consultation, to be launched 'before Easter' to consider options for reform, including whether the rate should in future be set by an independent body; whether more frequent reviews would improve predictability and certainty for all parties; and whether the methodology is appropriate for the future.
However the new discount rate is due to come into force on 20 March, meaning this consultation won't be conducted until after the rate change.
As a result, Evans added: "We need a fairer deal for consumers and claimants. We cannot wait until Easter – the Ministry of Justice must commit to alternatives immediately so changes to the law can be included in the Prison and Courts Bill."