News
Management reshuffle at Jaguar Land Rover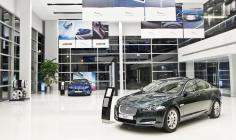 Several senior managers have been appointed or moved at Jaguar Land Rover as the two brands combine marketing and sales leadership.
A company statement said the changes include a revision of the group's Executive Committee with the aim of capitalising recent increases in sales across the two marques.
As of 1 October 2013:

– Phil Popham, currently director group sales operations, will become group marketing director Jaguar Land Rover, responsible for all global marketing activity on both the Jaguar and Land Rover brands.
– Andy Goss, currently president Jaguar Land Rover North America, will become group sales operations director with responsibility for global sales and customer service. Goss will take over Popham's current team and join the Executive Committee.
– Adrian Hallmark, currently global brand director for Jaguar, is appointed group strategy director, a role created to hold responsibility for developing business strategy, process and supporting strategic projects.
– John Edwards, currently global brand director for Land Rover, will move to the senior management team with his role yet to be announced.
In the UK market, the two brands are set to switch finance provider to Black Horse in 2014.
richard.brown@timetric.com