News
Manheim: part ex-values maintaining growth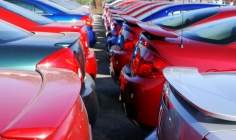 The average price of a part-exchange vehicle was £3,304 in September 2014, up £515 (18.4%) year-on-year and £984 compared to August 2014, according to remarketer Manheim.
Manheim said the September plate change saw a 'significant' amount of higher quality part ex vehicles come to market.
Eight out of the ten core vehicle segments had a lower average mileage in September 2014 compared to the same period in 2013.

The most notable drop in mileage was in the executive range, which had an average mileage of 103,742 in the month, down from 103,742 12 months ago.
Daren Wiseman, valuation services manager at Manheim, said; "The widespread availability of cheap finance and ever increasing consumer confidence in the market has contributed towards the long-term increase, while an influx of good quality, old registration cars since the unveiling of a new plate helps drive September's sales."
"I would expect the upcoming rise of interest rates to spark market realignment within the next few months. While it's likely 2014 will continue to outperform 2013 at most levels, I'd expect the prices to fall more in line with what could be considered seasonal averages."