News
Mann Island finance tool for 'credit challenged'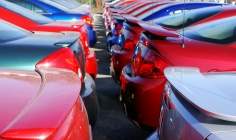 Mann Island Finance, one of the UK's biggest car finance brokers, has launched DealingRoom, a finance software package to help dealers catch car sales on the cusp of prime which may otherwise be lost.
The service matches car customers who receive a termed acceptance from a dealer proposal with the appropriate products from lenders and overlay's a dealer's stock to find a sale.
Such a proposition, Mann Island hopes, will place finance for this increasing level of near-prime custom while minimising credit searches and underwriting and without pushing the customer further into non-prime finance.

Since the credit crisis, the tightened lending of several financers has seen a growth in both the pool of near-prime customers and the acceptance of proposals on amended terms. While some subprime lenders have spoken of the frustration felt by dealers over the scenario others have spoken of the need to work harder at underwriting a deal to make it successful.
Portfolio scale
Rather than the typical dealer finance model of matching customer details with a chosen vehicle, Mann Island is aiming to increase sales to "credit challenged" consumers by presenting dealers using DealingRoom with the alternative of matching the customer to one of 62 different finance company products.
The software will assess a consumer's viability to meet criteria of lenders on the system, cross-referenced with vehicles the dealer has available, and give dealers the opportunity to present a range of substitute vehicles for which the customer has finance approved and available without additional deposit.
The Liverpool based intermediary believes the system will prove popular with dealers by increasing sales, selling to customers who would otherwise have been refused at the finance stage of the sale and helping them reorganise stock to make the most of the nonprime market, while not further impairing customers' creditworthiness with multiple searches.
John Hughes, director at Mann Island, noted the DealingRoom product would not have been possible without the company's "access to a wide portfolio of lenders and products".
The move echoes Hughes' previous comments in late 2012 on the importance the company has placed on being dedicated to dealers and focusing on prime customers without moving toward the "rate-for-risk" market.
"Scale is on our side," Hughes told Motor Finance. "We can provide more choice, that's our major strength."
richard.brown@timetric.com