News
Mazda extends zero percent PCP package to range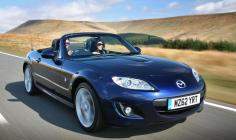 Mazda has extended a zero percent APR and no deposit finance scheme across its range including the new Mazda3 model.
The entire range, with the exception of the CX-5 crossover vehicle, can now be purchased through the Santander Personal Finance backed scheme until December 2014.
The scheme will include a £2,000 deposit contribution, a fixed price service package and flexible payment terms from 24 to 60 months.

This applies to all types of finance package. The Mazda3 is being offered on a zero percent, no deposit PCP package for the first time.