News
Mazda offers 0% APR finance deals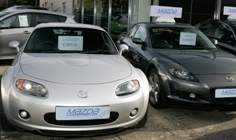 Mazda dealers are offering zero deposit and 0% APR representative finance deals on all Mazda2, Mazda3, Mazda5 and Mazda MX-5 models on Mazda PCP.
The 0% APR finance offer requires 50% deposit, with conditional sale over three years, and comes with zero deposit on a Mazda PCP over 42 months.
Peter Allibon, Mazda UK sales director said: "Today, we also have very strong new car finance offers which eight out of 10 buyers are taking up.

"These offers are as generous as they have ever been and very affordable even more so when you part exchange your existing car for a new Mazda which will represent a leap forward in technology," he added.