News
MBFS electric bicycle hire purchase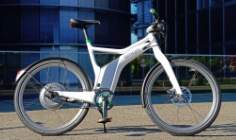 Mercedes-Benz Financial Services (MBFS), the captive finance partner of the Daimler Group, is offering 0% APR representative on the smart ebike.
The electric bicycle from Daimler's small city car brand is available on 24-48 month hire purchase until 30 September. In the example given by the manufacturer, the £2,495 bike would be available from £59 a month over 36 months.
Across its differentiated portfolio from smart cars to Freightliner trucks, loans to private and commercial customers of MBFS rose 24% by volume in 2012, and doubled between 2009 and 2011.

MBFS is not the only UK finance company to offer finance on bicycles alongside cars: Midlands-based non-prime lender Moneyway, the lending arm of Secure Trust Bank, holds an agreement with the Association of Cycle Traders to supply finance on pedal bikes.
The car and non-car retail lending operations at Moneyway have now grown to the point of separation, headed by Andy McMorine and George Miller respectively.
richard.brown@timetric.com