News
McMorine to run car finance at Moneyway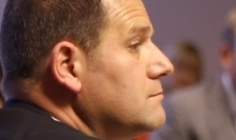 Moneyway, the subprime lending arm of Secure Trust Bank (STB), has appointed Andy McMorine as head of motor finance, part of the lender's strategy for 2013 and following a series of acquisitions in recent months.
Based in the Midlands, Moneyway has divided its asset-based retail lending in two with George Miller, previously national sales manager in motor finance, now head of retail finance, including the company's tie-ins with Arts Council England to supply finance on musical instruments and with the Association of Cycle Traders to finance bicycle purchases.
McMorine said work was going at "a million-miles-an-hour" after moving from his position as head of lending development at Moneyway, where he oversaw both retail and motor business. McMorine's previous experience includes six years at NWS Bank / Capital Bank Motor acquiring motor business in the North West, before joining GE Capital Woodchester in 2000 to manage F&I relationships with large dealerships and then lead business development and sales. Following the acquisition of GE by Santander Consumer Finance, McMorine became a field sales manager before joining Moneyway in February 2012.

The change in roles for McMorine and Miller followed the acquisition of point of sale finance provider V12 Retail Finance, one of Moneyway's major competitors, at the start of 2013.
As Jon Wilson, head of marketing and sales at STB, explained, the bank had already "developed its own retail finance business with lending balances at the end of September 2012 standing at over £60m. The acquisition of V12 gives us greater critical mass and ownership of a technology-based platform necessary to provide consumer with in-store and online point of sale finance."
The V12 purchase followed the acquisition of Everyday Loans (EDL) in June 2012, which provided STB with greater scope to cross-sell its loan products.
Broaden channels
Wilson said the EDL acquisition meant STB was "able to broaden distribution channels and our routes to a wider market, with particular emphasis on direct and technology-based platforms, and subsequently diversify and extend our lending portfolio.
"EDL has given us a retail branch network reaching over 70% of the UK population. We have expanded this network already and have plans to further grow the network."
Alongside EDL and V12, STB also purchased Rotherham-based collections agency Debt Managers in early 2013. STB now plans "to leverage the latent potential of its modern and scalable operating platform," explained Wilson.
"We expect to grow the business organically as many larger banks and finance companies deleverage and refocus, consistent with our on-going strategy of growing both lending and fee-based income streams."
Future growth
McMorine said the bringing in of other operations, but particularly V12, prompted the company to "look at the different resources we have to invest in" and the subsequent role changes, which would "support the future growth and sustainability" of both retail and motor finance at Moneyway.
McMorine said the divergence of his work with Miller's demonstrated the amount of car finance Moneyway was now aiming to write and that driving the brand in the dealer sector would be a priority in his role as leader an eight-person team to service the business's dealer and broker relationships.
"There is still an assumption in some areas of the marketplace that we are a broker, when we're actually a motor finance lender that's self-funded by STB. We are very much a lending business," said McMorine.
"In terms of motor, we see the near- and subprime areas of the marketplace as an ever-increasing segment. We see credit ratings and risk navigator scores of applications declining, owing to the factors affecting the economy. Affordability is the key area for the customer!"
McMorine noted the sector still held "a stigma" with retailers but now saw more "dealers who embrace the growth opportunities". Such opportunities include "increased turnover in sales, growth of income per retail sale, increase in their add-on penetrations and customer retention opportunities."
As such, the company's own business saw year-on-year growth in 2012, with "healthy growth" in the opening months of 2013.
"We will continue to service and grow our broker relationships, which are very strong, and a pivotal part of our business model," explained McMorine. "We'll then segment our Automotive Management top 100 and Key Account relations, and within those we will introduce a new product in Quarter Two of this year, assisting them to close more sales. We'll also be looking to increase our maximum lend sometime later in 2013 across our whole business.
"Our core sales team will focus on growing relationships with owner-driver businesses, owner-driver franchised dealers and the more traditional used car dealers to increase our exposure in the marketplace.
"Thereafter we have plans to create a product which will enable us to work with our partners and drive customer retention levels in the near and sub-prime sectors."
richard.brown@timetric.com
Free download worth over $5000
Download our 2018 Technology, Media and Telecoms Predictions Report
Worth up to $5,850
In this report, we look at the 30 big tech themes for 2019, identifying winners and losers for each theme. This report will impact all industries helping:
CEOs/Senior Staff: in all industries understand the disruptive threats to their competitive landscape
Investors: Helps fund managers focus their time on the most interesting investment opportunities in global TM