News
Mercedes-AMG to buy stake in Agusta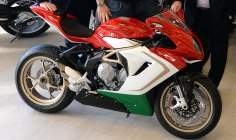 Mercedes-AMG, the sports car and performance brand of Daimler AG, has agreed to acquire 25% of Italian bike manufacturer MV Agusta.
Although no financial details of the financial figures were revealed, Mercedes will appoint a member to Agusta's board of directors.
The two also signed a cooperation agreement on a long term partnership involving sales and marketing.

The agreement comes a few days after Close Brothers Motor Finance agreed to be Agusta's exclusive finance partner in the UK, where the bike maker currently has eight dealers.
The deal is still subject to approval from the relevant authorities, which Daimler said was expected in late November.