News
Mercedes drops PCP monthly rates in Q4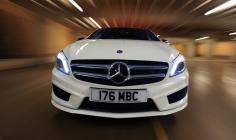 Mercedes-Benz has lowered the monthly payments for its A-Class model to £249 a month, alongside offers on other models, when purchased on PCP before 31 December.
In an example given by the marque, the rate is available upon provision of a £2,743 customer deposit, over a 36-month term, at 5.5% APR representative and 4.68% fixed interest rate under Mercedes' Agility-brand PCP and will come with a balloon payment option of £10,675 and three years' free servicing.
In other deals, monthly payments will start at £285 for the C 180 Executive SE Saloon and at £399 for the E 220 CDI SE Coupé or Cabriolet.

Meanwhile, smart, Mercedes' city-car sister-brand, has offered 0% APR, one year's free insurance and payments starting at £79 a month for vehicles available on the 'edition 21' package aimed at drivers over the age of 21.
richard.brown@timetric.com