News
Nissan offers 0% PCP or HP on Note 1.4 Visia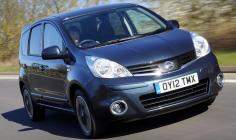 Nissan has made the Note 1.4 16v Visia available in the UK via HP and PCP on 0% interest, until 30 June.
The HP offer includes a deposit of £4,486, with a £500 manufacturer contribution, followed by 26 monthly instalments of £199, for a total cost of £11,650.
The PCP deal includes a £3,570.92 deposit, again with a £500 manufacturer contribution, then 36 monthly payments of £119, followed by three options.

Customers can make a final payment of £3,795.08, making a total of £11,650; they can return the car for no extra fees, subject to 8p per-mile over the 10,000 annual mileage limit, and costs for disproportionate wear or damage; or they can part-exchange the car via a new PCP plan, with any value above the final payment contributing to the deposit on the replacement car.