News
Older vehicles outperform newer used ones – NAMA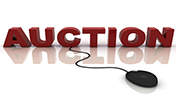 According to figures reported by the National Association of Motor Auctions (NAMA) for April, the value of older used vehicles sold at auction grew 5% between March and April 2014, faster than the 3% increase in nearly-new auction prices.
The average value of cars aged between 4.6 and 6.5 years grew from £5,250 to £5,425, while the figure for cars above 6.6 and under 10 years old climbed from £2,450 to £2,575.
The lower rate of growth witnessed in almost-new car values was mirrored by that of cars in the budget sector, older than 10.5 years, which grew 3% from £750 to £775.

Overall, the report showed the average value of used cars sold at auction in April fell 3.4% from £5,259 to £5,153.
Despite falling 1.1% from March to 109,271 units, sales volumes saw a 9% increase on a seasonally adjusted basis.
Speaking to BusinessCar, Paul Hill, chairman of NAMA said the association's revised monthly report aims to represent the remarketing sector as a whole.
He said: "A lot of large organisations backed by banks want to understand what is going on in the market month on month.
"We want to be in a position where the data is used for the right reasons."