News
Oracle success with Range Rover post-ING pullout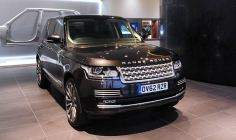 Prestige motor financer Oracle Finance has reported a "notable growth" in demand for its Range Rover finance package, eight months after the withdrawal of high-end vehicle funder ING Lease.
Oracle designed the package to allow customers to purchase a Range Rover as a cash buyer and take advantage of current interest rates.
Peter Brook, managing director of the Yorkshire-based intermediary, said the package was "proving extremely popular" and "by taking out an independent finance package you can avoid paying over the odds at the dealership and essentially make the purchase as a cash buyer, which could, in turn, even lower the price of the car."

Brook explained the company was "able to fill the void left by ING by a number of other providers".
According to Oracle, the UK vehicle finance market was worth £22bn in 2012, of which ING held a 5% market share, meaning its pullout was estimated to have left a £1bn shortfall.
ING's departure, however, followed a period when many in the industry, including other brokers, were talking of the 'recession-proof' strength of the prestige market. BCA reported auctioning £231.4m of upper executive, sports and luxury cars in the opening six months of 2012. At the time, Richard Lawton, marketing manager of MainDealerOffers.co.uk, spoke of the rising activity of brands such as McLaren, Bentley and Eterniti as evidence of the growth in the high-end market.
"It's absolutely booming," said Lawton. "In times of recession, people at the top get richer."
Tony Gannon, communications director at BCA added the market was "exceptionally buoyant, with buyers prepared to invest six-figures for the right vehicle" despite the economic downturn.
In March 2012 fellow prestige finance intermediary Bridford Financial Solutions reported a "spike" in finance deals of £4.4m, aided by the introduction of variable rates by ING, which also funded Bridford. In particular, Bridford reported healthy business for Range Rovers, having placed more than £1m in finance on its first 30 deals for the model in November 2011 and passed £3.5m arranged by August 2012.
Since then multiple funders have been cited as having the potential and interest to lend more in the high-end market. These have included Investec Asset Finance, which began prestige finance in an exclusive partnership with London Asset Finance and has declared its ambition to double its book by 2014.
Aldermore Bank has likewise said it would invest further in the broker sector and support introducers who had lost out from the removal of ING. And Hitachi Capital is also in the mix, with its consumer finance branch entering the UK market in May 2012, with the rumoured ambition of writing £300m of business by 2014/15. Earlier this year, the business finance arm of Hitachi Capital – HCBF – began funding DSG Prestige, the high-end car finance brokering arm of DSG Financial Services formed from Bridford. Carl D'Ammassa, managing director of HCBF, confirmed that, although the company was looking to fill spaces left by ING, the variable rate product it would supply to DSG Prestige wouldn't be available on a "blanket basis".
Also, early this year, Oracle was awarded Broker of the Year for 2012 by Alphera Financial Services, and commended by the BMW subsidiary independent lender for its volume commitment and overachievement of efficiency targets.
Looking ahead, Brook has predicted renewed sales in the prestige market saying: "The automotive industry has always been an indicator of economic prosperity – with sales picking up and the potential cost to the consumer coming down, this may be an early sign of better things around the corner. You can expect to see a lot of people buying new cars in the coming years; many had held off doing so due to the downturn – but now things are improving and their cars are another year or two the worse for wear."
richard.brown@timetric.com
Free download worth over $5000
Download our 2018 Technology, Media and Telecoms Predictions Report
Worth up to $5,850
In this report, we look at the 30 big tech themes for 2019, identifying winners and losers for each theme. This report will impact all industries helping:
CEOs/Senior Staff: in all industries understand the disruptive threats to their competitive landscape
Investors: Helps fund managers focus their time on the most interesting investment opportunities in global TM