News
Peugeot to cut its model range by half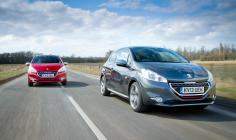 Peugeot has decided to halve the number of models in its range from 26 to 13 over the next few years.
The plan is part of the car manufacturer's strategy to "Move Upmarket" into what the company described as more "profitable channels of distribution".
The strategy also involves shifting focus towards the retail market and the lesser discounted areas of the fleet sector.

The cut will leave Peugeot with four small and five medium vehicles types, as well as four cars within its larger, C-SUV/D category.
Peugeot will maintain range span of 108 to 508, eliminating some of the more niche models in-between.
Maxime Picat, chief executive officer of Peugeot, said market requirements would dictate the exact composition of the 13 models the carmaker will maintain.
He added: "94% of the models I sell are already represented by the cars we will focus on, and we will gain some sales by moving into new markets."
Peugeot has been having a successful year so far compared to 2013. Total sales in 2014 have risen 5.4% to 683,000 and the company has increased sales figures in both Europe (14%) and China (28.4%), to 407,000 and 157,000 respectively. The latter growth figures in particular stand at twice their respective markets' increases.
Conversely, Russia and America both posted reduced volumes in 2013 and continue to decrease, a factor Picat attributed to a combination of economic circumstances and unfavourable exchange rates.
He added: "Argentina has stopped importing cars altogether and we were very strong there.
"We sold 100,000 cars in Argentina last year at prices 10% higher than those of Volkswagen."