News
Porsche sales power away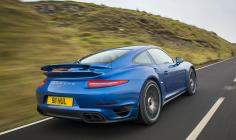 German sports and prestige car maker Porsche has reported a 15% rise in sales and a 6% rise in profits in 2013, making it the "most successful year in the company's history."
The VW-owned business made an operating profit in 2013 of €2.58bn (£2.16bn) on a revenue of €14.3bn buoyed by the introduction of new models and products across the exiting range.
The number of employees also reached record breaking levels, with a rise of 11% on 2012 to a total of just under 19,500 staff.

The year saw Porsche unveil a number of innovative products such as the 918 Spyder hypercar and the Macan sports SUV, which has the potential to be the brand's biggest selling vehicle.
Porsche has already seen a 3% year-on-year increase in sales in the first two months of 2014 and Matthias Müller, chief executive of Porsche, said: "This positive trend will intensify in the course of 2014 and the market launch of the Macan in April will further increase the company's sales."