News
Renault Captur on 4+ deal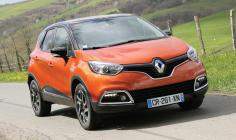 The Captur, the latest supermini model from Renault, will be made available on the Renault 4+ deal.
The 4+ offer, which the brand estimates is worth over £1,000, gives customers four years' (or 100,000 miles) warranty, (48,000 miles) routine servicing, roadside cover and access to straight finance.
The finance will be supplied by Renault's captive finance partner, RCI Financial Services, which reported a slight fall in revenue for 2012.

The supermini is a motoring segment on the rise, with Mark Norman of CAP telling attendees of the Finance & Leasing Association used car seminar in 2012 that the supermini would soon be seen as the next family car and Renault's partner-brand Nissan among many marques to offer finance on supermini models in the final quarter of 2012.
The Captur is available to order from 1 May and in showrooms a month later.
richard.brown@timetric.com