News
Renault Retail MD moves to European Operations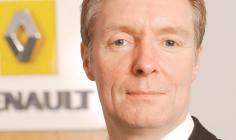 Renault Retail Group (RRG) has appointed Len Curran, previously managing director of RRG in the UK, as director for European Operations.
Curran will take on responsibility for 85 Renault, Nissan and Dacia sites across 12 countries, excluding France, and their 3,700 staff managing 100,000 new car sales and 50,000 used car sales with a turnover of €2.7bn (£2.3bn).
Curran has been head of RRG in the UK since January, following 30 months as vice president for sales and marketing for Renault in India. He holds 22 years' experience with Renault, starting as an area manager in Scotland.

The move marks one of a handful of UK-based senior staff being appointed to wider or international positions by a manufacturing group, including Andy Williamson's promotion within Daimler, and that of Simon Thomas within the Volkswagen Group.
richard.brown@timetric.com