News
Renault UK halting pricing-based deals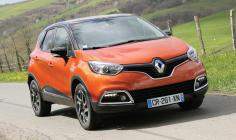 Carlos Tavares, chief operating officer at Renault, has said he expects Renault UK to end pricing-based deals such as 0% interest finance and cash backs.
"Deals we had in the past did nothing for the value of the brand," Tavares told HeadlineAuto. "Now we are concentrating on the value of our products."
Tavares said Renault UK now had a five-year, mid-term plan in place which had "the full backing of the dealer network," and he expected the UK business of the French brand to be operating profitable growth by the end of 2013.

Tavares explained Renault UK was able to focus "on returning to profit and supporting our customers," with the aid of the latest Clio, the Captur and the Zoe electric vehicle (EV) model released in June.
Recovery and marketing
At the end of 2011 the brand announced it would decrease the number of retail sites in operation in the UK, however, RCI Financial Services (RCI FS), captive provider to Renault and unaffected by the cuts, predicted sales would recover on the back of the Clio and the Zoe.
Instead of 0% deals or deposit contributions offered by other manufacturers, UK Renault offers have included adding insurance to PCP purchases and making the Captur available on the brand's 4+ scheme.
Steve Gowler, managing director of RCI FS, has also spoken of his hopes for the Zoe as a retail EV, opposed to the rental-market Twizy or commercial-market Kangoo, and to be marketed on finance in the same manner as the Nissan Leaf.
Worldwide, the Renault Group recorded bleak results for the first half of 2012 but ended the year in credit for the fourth year in a row. However, sales financing outperformed sales across the calendar year, a feat repeated in the Group's first-quarter 2013 results in which profit from finance was recorded as up by 1.9% year-on-year while profit from the automotive division slipped 12.6%.
richard.brown@timetric.com