News
Renault's finance division adds 19% to new contracts in 2013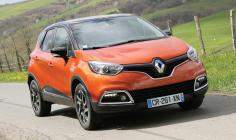 RCI Banque, the finance division of Renault added €747m (£622m) to the French car maker's profits and had a 19% year-on-year increase in new financing contracts in the 12 months to the end of December 2013, taking total contracts for the year up to 1.16 million.
The increase in new contracts came from a combination of an increase in penetration rates across the new vehicle range and the continued development of RCI Banque in international markets.
While profits were down slightly from €748m recorded in the previous 12 months, the value of the new contracts was €11.4billion (£9.2bn), which compares to €10.8bn for the year before, an increase of 5.5%.

Europe, currently RCI Banque's biggest region, grew new contracts by 4.4% in the face of contracting markets. The rise came through greater penetration rates, to 35.1% up from 33.9%, particularly in the UK, and an increase in used car financings.
Penetration rates were strongest in Asia Pacific at 47.4%, with the Americas performing strongly at 42.7%. Brazil's performance in particular, despite a contraction in 2013, allowed it to remain the second largest global market for RCI Banque after France.
Globally the penetration rate across all of the Renault-Nissan Alliance brands was 34.6% and risk costs remained stable across the finance division at 0.42% of loans.
Overall net profits at Renault declined 59% to €695m from €1.74bn in 2012.