News
Smaller cars performing well – G3 Remarketing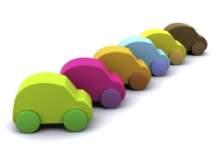 Small engine cars, such as the Hyundai i10 and Peugeot 107, performed well in May, hitting as much as 104% against CAP, according to latest data from G3 Remarketing.
Meanwhile, high-specification, bigger models are also seeing strong prices, boosted by continued export demand, as previously noted by vehicle valuation firm CAP and auctioneer CD Auction Group.
Among the demand for 'executive' models, G3 highlighted the performance of the BMW 5 Series, the Audi A6 and A8, and Jaguar models, which all saw prices rise.

The volume of vehicles sold in online auctions has risen 21% year-on-year, with cars from finance companies contributing approximately a 6% increase in the volume, with the rest coming from ex-fleet vehicles. To aid online sales, G3 launched an online bidding platform in March.
Further data and analysis from G3 Remarketing will be published in the July issue of Motor Finance.
richard.brown@timetric.com