News
SMMT: 2014 car registrations surpass 2m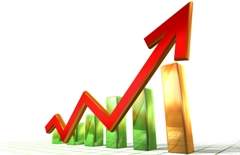 The total number of cars registered in the UK has risen 9.5% year-to-year (YoY) reaching 2.14 million, according to The Society of Motor Manufacturers and Traders (SMMT).
This is the first time the market has passed two million car registrations in October since 2007.
Aside from 2013, this number is also more than the total amount of cars registered over the whole year of any year after 2007.
October's registrations totalled 179,714 a YoY increase of 14.2%. This was higher than the amount recorded in the same month 2013, and the SMMT said the figure exceeded its expectations.

This was the fastest YoY growth for any month since March, when new car registrations leapt 18% year-on-year.
Mike Hawes, SMMT chief executive, said the SMMT still expects the overall market to level off as 2015 approaches. However, he said: "the exception to that rule will be alternatively-fuelled vehicles (AFVs), demand for which will continue to accelerate."
In October 2014, 4,692 AFVs were registered, compared to 2,952 in the same month 2013, an increase of 58.9%. As a result, the segment's total market share jumped from 1.9% to 2.6%, year-on-year.
Petrol cars also grew their market share for October thanks to a 15.9% YoY increase in registrations. As a result, 81,830 petrol cars were sold in October 2014, constituting 45.5% of the market.
The overall market share of petrol cars, however, fell YoY from 49.3% in 2013 to 48.1% to date. To put this in context, 1.03 million petrol cars were sold year to date in 2014 compared 961,609 in the same period 2013.
Diesel cars also lost market share, down from 53.2% in October 2013 to 51.9% in October 2014. This was the result of diesel car sales lagging behind the general market rate. A total of 93,192 diesel cars were registered in the month up 11.3% year-on-year.
By segment
Almost half (49.9%) of registrations were fleet based in October, which compared favourably to the 49.5% for October 2013. However year-to-date, fleet market share fell from 47.1% to 46.5%.
The inverse was true for private cars, which saw market share fall from 45.3% in October 2013 to 45.0% in October 2014, but grow from 48.2% in the first 10 months of 2013 to 48.5% over the same period 2014.
Similarly, the market share of registrations for business fell from 5.2% to 5.0% YoY in October, but grew from 4.7% in the first ten months of 2013 to 5.0% in the same period for 2014.
By Model and Brand
Ford's remained the most popular brand in October, with sales growing from 21,325 in October 2013 to 24,221 in October 2014. Despite this, its market share fell slightly from 13.56% to 13.48% (YoY)
As usual, Ford's position in the market was helped by its Fiesta and Focus models which were the bestselling models in the month, with 9,157 and 7,116 registrations respectively.
Vauxhall also held onto its position as the second most popular car in October, with a market share of 10.58%, thanks to 19,005 sales. This was down almost one point from the 11.52% market share it had in the same month 2013. The Vauxhall Corsa was the third bestselling model of car, with 6,184 cars sold.
With three cars in the top ten bestselling models (The Golf, the Polo and the Astra), Volkswagen was the third most popular manufacturer in the UK in October 2014, with 15,495 cars sold. Its market share was 8.62% up 0.61 points(YoY)..
Thanks to 12,893 registrations, Audi was the fourth most popular manufacturer in October, with a 7.17% market share, up from 6.81% in October 2013.
The most impressive growth came from Nissan. Its sales leapt 42.99% YoY to 11,934 cars, making it the fifth biggest brand by volume in the month, overtaking Mercedes, which it was equal with in October 2013, and BMW in the process.
Other manufacturers to see impressive growth included Dacia, which saw sales grow 41.96% year-on-year to 2,047 and Volvo, which added 42.35% YoY to its registration total for the month, to 3,946.
While the majority of manufacturers grew sales, the good news was not universal. Honda's sales fell 16.84% YoYto 3,028, Land Rover sales fell 6.81% YoYto 3,695 and Peugeot sales dropped YoY 14.46% to 5,867.
Commenting on the SMMT figures, Chris Sutton, managing director of Black Horse, said: ""As we witness another month of positive car sales it's a question more of when will this good news story end? As we enter the final quarter of 2014 consumers will be anticipating new models in the New Year and may well be considering upgrading or part exchanging their current car so this continued growth trajectory may continue, but more than likely at a slower pace than we have previously seen."
Sutton added:"Alongside this we should see manufacturers and finance providers continuing to work hard to offer affordable and competitive finance options to consumers so all in all we should anticipate continued good performance till the end of the year and a promising start to next year."