News
SsangYong unveils new PCP scheme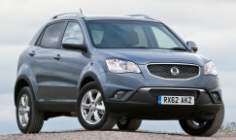 South Korean motor company SsangYong has announced its first PCP scheme, as part of its plan to double sales in the UK in 2014.
Launched in March, the PCP contracts will be supplied by GMAC financial services and have their residual values underwritten by SsangYong UK.
Paul Williams, managing director of Koelliker, responsible for SsangYong product distribution in the UK, said: "Private sales across the industry are being driven by PCPs and we have struggled in the past with residual values (RVs), largely because we have had so few vehicles on the road and used models tended to go straight back into the dealer network rather than out through auction, so there is little historical background."

He added SsangYong will guarantee an RV which "gives dealers a much stronger selling story", as well as helping retain those customers who return to trade-in their vehicles.
Having delivered 833 vehicles during the course of 2013, SsangYong is aiming to consolidate its sales numbers in the UK and has set a target of 1,500 for the coming year.
The introduction of the PCP scheme follows the presentation at this year's Geneva Motor Show of the company's latest model, the X100 SUV, which is set to be released in 2015 onto all SsangYong's major markets, including Korea, Western Europe, the US and China.
Earlier in March, SsangYong also announced it will be changing its name in anticipation of the launch of the X100 and the planned expansion of its business overseas.