News
Stoneacre adds Chrysler and Jeep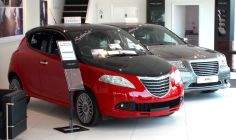 Dealer group Stoneacre has added Chrysler and Jeep to the Fiat franchise at its Newark Road site in Peterborough.
All three brands are part of Fiat Group Automobiles (FGA) and have had recent deposit contribution deals offered through captive finance provider FGA Capital.
With Chrysler and Jeep represented at the Newark Road showroom Stoneacre, which began its own subprime retail lending facility this year, now sells 14 brands across its 29 sites.

Shaun Brookhouse, Stoneacre's regional manager responsible for the two franchises, said the sale of Jeep would enable the group to expand into the "lucrative premium market", a sector which has appeared averse to the worst of the recession and attractive to funders following the exit of ING Lease.
Nigel Land, head of brand at Jeep Chrysler, called the tie-in with Stoneacre a "great addition" which would provide representation for the marques in the Cambridgeshire city.
richard.brown@timetric.com