News
SUV winter lift fails to materialise – CAP Gold Book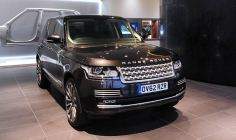 The residual value performance for 4×4 vehicles failed to experience the winter uplift previously forecast, according to motor industry analyst CAP Gold Book.
Residual value positions at the end of the 2013/2014 winter were therefore significantly lower than expected.
According to CAP, SUV seasonality presents significant differences from the rest of the market, with more significant falls in spring and summer following less-pronounced depreciation during the winter months.

Although the subsequent reductions reported in recent weeks are consistent with the normal season pattern for 4×4 values, the foregone absence of the seasonal lift meant a lower starting base and as a consequence SUV sales values in April also performed worse than expected.
The figures were revealed as part of CAP Gold Book iQ's comparative analysis of seasonal patterns among car sectors, accompanied by details of the forecast assumptions behind future residual value predictions.
Dylan Setterfield, senior editor of Gold Book, confirmed the exceptionally fast reductions in used values for SUVs witnessed in recent weeks had been a much commented topic within the industry.
He said: "When values started to fall this year after Easter it sparked speculation that the SUV market was a bubble which was starting to burst, when in fact the reductions observed during April were in line with expectations."
"However, during the course of our routine sector analysis, measuring actual used value performance relative to seasonal expectations since our review in November, we saw a significant departure," he added.
"In the SUV sector, values were on average 4.5% lower than we would have expected from typical seasonality movements."
According to Setterfield, while the overall SUV sector is expected to conform to seasonal expectations in 2014, those models which recently witnessed large volume growth are likely to see "a much harder landing".
He added that the winter performance did not come as a surprise to analysts: "We had already forecast in November for a slightly weaker seasonal upturn, so the outcome is that values are on average only 2.5% behind our forecast."
As such, he said: "The weakness in SUV values was not a sudden fall and was traced back to a lack of strength earlier in 2014.
He added: "The overall message the market should take on recent 4×4 residual value changes is therefore that they are now returning to something much closer to the normal seasonal pattern following an unusual winter period."