News
Tarun Mistry resigns from Grant Thornton, after building advisory section over 14 year career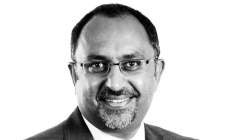 Tarun Mistry, Grant Thornton partner for its financial services corporate finance & automotive advisory team, resigned his position at the accountancy and advisory business last week, Motor Finance and Leasing Life have learned.
Mistry has had a 14-year career in advising the leasing, consumer, motor and specialist finance sector, and has been the orchestrating influence behind the majority of complex transactions, mergers and acquisitions within the UK industry over the past decade.
He built up this advisory team at the accountancy firm, adding a new avenue for the business to engage with the leasing market, and has led on many varied advisory projects.

"I've been in the advisory market for 14 years and I've had an incredibly interesting career at Grant Thornton, for which I will always be thankful to them," said Mistry. "When I joined there was no sector focused advisory service within the firm. It has been a fascinating and extremely fulfilling experience to take a figment of an idea for a sector-focused advisory business and see it develop into a leading practice," he added.
"It's been great – the industry is full of warm, vibrant people who, as you will know, are very welcoming and engaging, and happy to talk to you about their business. Through the numerous assignments I have completed I've met so many people who I now class as personal friends."
Mistry told Leasing Life and Motor Finance that he had enjoyed his time with the firm but that new opportunity, as yet undecided, had beckoned.
Loading ...
"I haven't planned to retire by any means! I've really got a decent chunk of my career left to add further value to the sector – hopefully another exciting chapter in my career to come."
"I've enjoyed starting an advisory business and the entrepreneurship that went with its' development. I have developed great relationships in the market, so I'm sure I can continue in some form of an advisory role going forward, the structure of which I don't know yet."
A small selection of notable deals that Mistry and his team advised on within the market have included the sale of Anglo Scottish to Maxxia, the acquisition of Five Arrows by Paragon Bank; Paragon's acquisition of Premier Asset Finance; the acquisition of Tower Leasing by Acuity; Shawbrook's acquisition of Singers Asset Finance & Centric Finance; Secure Trust Bank's entry into the asset finance space with Haydock Asset Finance; the sale of Mann Island and DSG Finance, and most of the private equity acquisitions in the asset and consumer finance brokerage and lending sector as well numerous strategic advisory roles.
In addition, Mistry and his team have advised on many of the wholesale debt transactions for the consumer, motor, asset finance, and fintech sector.
Mistry has played a central role as adviser to many of the recent transactions that have moulded the leasing market from 2013, as this 2015 interview with Leasing Life shows.
"It could be that I will get more directly involved with the industry, through helping businesses grow, fund themselves, develop their strategies and hopefully be part of their growth story in a more direct way. I'm keeping all options open," said Mistry.
"I'm going to think and reflect on what I'd like to do going forward – I will take a short time off to recharge my batteries! I couldn't be sat at home or go travelling for too long – just long enough to figure out what comes next."