News
UK government extends subsidy for charge points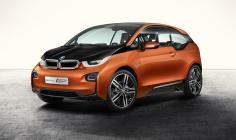 The UK government has given further backing to the ultra low emission vehicles (ULEV) market by announcing the next phase of its scheme to assist plug-in drivers to recharge their vehicles at home.
The first phase of the scheme was launched with £13.5m in February 2013 to subsidise the installation of recharge points in households. The second phase of the scheme has now come online after the take up of the whole of the initial budget.
The £9m contained within the second phase will be made available to any regular ULEV user having a charge point installed in their home and will cover up to 75% of the total cost of the charge point and installation, up to a total value capped at £900

The cap has been lowered since the first phase of the scheme by £100, reflecting the smaller pot available in the second stage.
Commenting on the charge point subsidy, transport minister Baroness Kramer said: "Our scheme has been tremendously popular and we are keen to continue the roll out of chargepoints to driveways and garages across the country. That is why we are launching a successor scheme today to help make this important technology as commonplace in your home as a plug for your kettle. It will also help create British jobs in the sector, while also cutting driving costs and carbon and improving air quality."
The scheme will run from 1 September 2014 until 31 March 2015.