News
US auto loan delinquency rate remains flat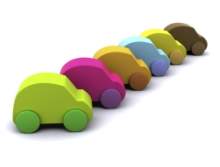 The US auto loan delinquency rate, the percentage of accounts 60 or more days past due, remained relatively constant year-on-year moving from 0.79% in Q2 2012 to 0.80% in Q2 2013, according to US credit reporting agency TransUnion.
On a quarter-over-quarter basis, the auto loan delinquency rate experienced a drop of 8ppts from 0.88% in Q1 2013.
Auto loan balances increased more than 4% between Q2 2012 ($12,875 (£8,254)) and Q2 2013 ($13,435) and every State, except for Michigan, experienced a year-on-year increase in average auto loan balances.

Peter Turek, vice president of automotive for TransUnion, said: "Our second quarter data are favourable for the auto loan market, as delinquencies remained largely unchanged while auto loan debt rose once again in the last year."
Earlier this month, fellow credit reference agency Experian Automotive reported the auto repossession rate in the US has dropped to new lows in Q2 2013.