News
Used car prices continue to climb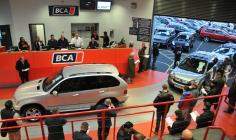 The value of used cars continued to climb in December despite an increase in age and mileage, according to data from remarketer British Car Auctions (BCA).
The average value rose by £84 or 1.1% in December taking the average price of a used car now £7,573 using the BCA's Pulse survey figures.
Year-on-year the rise in values was more marked, with a 2.8% increase in 2013 over 2012, representing a £212 rise over the previous year's value.

The age of those cars and the average mileage also increased as the percentage of cars coming to market from part-exchange deals rose.
Mileage reached 57, 067 for the average car which compared to 55,591 for 2012.
December is traditionally a short month of trading and also one in which the number of fleet cars is reduced as they are often held back for the New Year. Despite this the values saw near record increases with the trend due to continue.
Simon Hemstock, UK operations director at BCA said: "Looking ahead to 2014, there are no signs that the demand for retail quality used cars is going to ebb, so we expect values to remain strong."